The stories of the Botanical Garden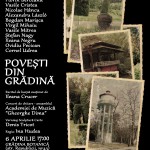 The stories of the Botanical Garden are the the stories of its visitors. They belong to the Garden in the same intimate way that they belong to us, the ones who lived there the emotion of a first kiss or I love you, the ones who wrote in secret diaries, walked hand in hand with secret lovers. Even if left untold, they enrich this magical space with their footholds. To be able to tell them, to be able to write these stories, is to bring to the light an entire hidden treasure of emotions and significance.
We invite you to attend our special evening with Garden Stories and hear the first stories from the Garden's treasure. We will enjoy together a show which reunites storytellers, music and the first Sculpture Livre from many which will spread throughout the Garden until autumn.
When: Saturday, April 6th, starting with 5 pm
Where: The Botanical Garden, the entrance on Republicii Street.
Access is free.
We will enjoy the secrets of the Garden, told by their original authors, among which, there are: Stefan Nagy, Ileana Negru, Cornel Udrea, Virgil Mihaiu, Alexandru Laszlo, Vasile Cristea, Horia Badescu, Florin Berceanu, Nicolae Hancu, Bogdan Marisca, Vasile Mitrea and others, with a special host, professor Ovidiu Pecican.
The show will also include the oficial launch of a Sculpture Livre (a Book Sculpture) by Denis Tricot from the series that will be placed in the Botanical Garden by this fall. A harp recital by artist Irina Cruceru and a guitar concert by the Gheorghe Dima Musical Academy Guitar Ansamble will complete our evening.
We will all participate in ending this evening, to make together a commitment to the Garden revival and new stories that may be born here.